Request In-Home Scooter and Electric Wheelchair Repair
Our clients rely on us to provide the best electric wheelchair repair possible. Of course, they also expect us to send our skilled, experienced technicians right to their door. What good would scooter repair do if we didn't bring our excellent services and technicians to you? We're happy to provide in-home scooter repair for our customers, as well as a comprehensive stock of the best parts available.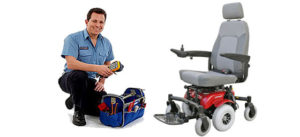 In-home electric wheelchair repair service is the easy way. But it's still important to understand how it works and what you need to do to prepare for you in-home service. The system has been set up and refined so that our clients benefit from it, so things should go smoothly. However, you can make it go even better if you are prepared in advance.
If you know what the problem is with your electric wheelchair or scooter, getting it fixed will be that much easier. Describe the problem you're having to the customer service rep on the phone, or write down your problem in our online request form. Each detail you can share will help. In fact, even if you don't know what's wrong, try to describe your concerns in detail so that we can try to identify the problem. Of course, even if we don't know what is wrong or what needs fixing, we'll still make an appointment for you with one of our fantastic electric wheelchair repair technicians. They will be able to figure out what is wrong and they'll be able to provide you with a fix.
Does your electric wheelchair repair job require that the technician brings parts when they come to the appointment? If so, we will make sure to have the parts ordered in advance and sent to you home, so that when the technician arrives everything will be ready for a quick fix. In fact, we also know that some of our clients only need parts and not a technician. Whether the repair goes well or you need in-home help once you get started, just let us know.
Filing out a form or giving us a call?
When you're ready, you've got two choices for making your request for in-home scooter repair. Either way will get you an appointment with a skilled technician and any parts necessary for the repair. The only difference is how comfortable you feel with the process.
If you'd prefer to fill out our online form, a customer service representative will respond to it by email or by phone – again, your choice – within a short amount of time. Any further questions can be handled later, if the problem is not clear to the customer service rep or technician.
But if you're more comfortable speaking to someone over the phone about what's going on, just give us a quick call. Our customer service reps are standing by, ready to answer your call and get your scooter repaired as quickly as possible. They can help you to determine what the problem is and what you'll need in order to be back in business.
With a long history of providing excellent scooter repair and service to our clients, we have the experience to get things done right.
Don't hesitate to be in touch with us, whether you know you need in-home electric wheelchair repair or if you're just uncertain whether or not your scooter is working the way it's supposed to. We're happy to help in any way we can.